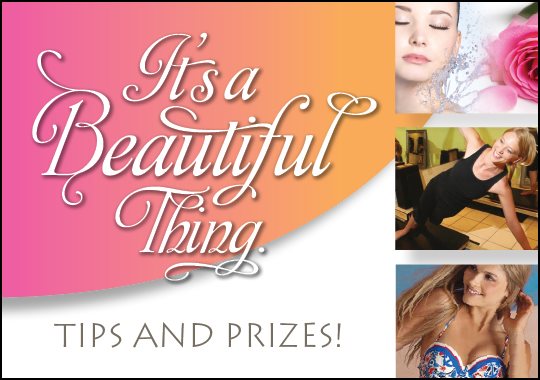 Summer is here! And it's bringing with it our new series of posts and prizes, "It's a Beautiful Thing."
We're partnering with the Pilates Place of Mississippi and Sportique to bring you seasonal tips and spectacular giveaways to be fashionable, fit and fabulous. Read below for advice from each of our partners and enter for a chance to win THREE prizes. There will be one winner each week.
Enjoy and be sure to enter for 3 great chances to win!
* * * * *
SKIN the spa - Target sun damage with a HydraFacial
A summer HydraFacial is a soothing, moisturizing, non-invasive skincare treatment to specifically target sun damage, blackheads, whiteheads, pores, brown spots, uneven skin tone, and fine lines and wrinkles. Proven effective for all skin types, this 30-minute treatment has no discomfort or downtime.
See why Hollywood is raving.
* * * * *
The Pilates Place of Mississippi - Improve your swing or just get back into it!
By: Sylvia Blackwell, Owner
Did you know STOTT PILATES® can be customized to suit everyone from rehab patients to elite athletes?
It develops core strength and balances muscles around the joints.
Pilates done right is the perfect exercise to improve:
• Performance in your favorite sport
(tennis, golf, skiing etc.)
• Balance, coordination & circulation
• Posture and proper alignment
• Mental and physical awareness
Improve the way your body functions, looks and feels.
* * * * *
Sportique - Flaunt your assets. Suits that flatter!
By: Delia Childers
Our style guide helps you choose the right suit for an amazing look!
Choosing the right swimwear for your body type is key to rocking it "beach style" this summer. Let us help you choose a suit to slim waists, enhance bust lines, flatten tummies or flatter your hips. Together we help identify the type of swim suit that will best compliment your figure.
Plus, as always we have all the hottest new trends in swimwear.
So go ahead, flaunt our assets. Click here for our fit guide.
Don't forget to click here to enter the giveaway!