Skip to Content
Breast Augmentation in Jackson, MS
We Can Enhance the Appearance of Your Breasts
Your perception of how you look affects your confidence and self-esteem, so it is crucial to be comfortable with your appearance. Runnels & North Outpatient Plastic Surgery Center is committed to helping individuals look their best, which is why we offer breast augmentation surgery, among other cosmetic options. Drs. Scott Runnels and William North have extensive experience with all kinds of breast and body surgeries, and we will ensure you look terrific. We hold our team to the highest standards and take pride in delivering unrivaled results. Let us know what you want to achieve from your cosmetic enhancement, and we will make your vision a reality. Call our office in Jackson, MS today to get started.
What Is Breast Augmentation?
Breast augmentation is a surgical procedure during which an implant comprising saline or silicone is placed under the breast tissue or the chest wall's muscles. This surgery increases the size of one's breasts while also enhancing the breasts' shape. Our doctors have been perfecting the process for years, and we have countless satisfied patients to attest to our proficiency. We use state-of-the-art equipment and remain current with the latest innovations and techniques to guarantee success for each patient who visits our practice.
Determining Whether Breast Augmentation is Right for You
Opting for breast augmentation surgery is a very personal decision, but we are happy to explain the advantages and benefits of the procedure. During a consultation, we will let you know what to expect before, during, and after the process. Breast augmentation is among the most commonly performed cosmetic surgery procedures, and its satisfaction rate remains high. Ideal candidates for breast augmentation include those who want to:
Enlarge their breasts
Increase the fullness of their breasts
Restore volume following weight loss or pregnancy
Correct asymmetrical breasts
Improve body proportions
Enhance confidence and self-esteem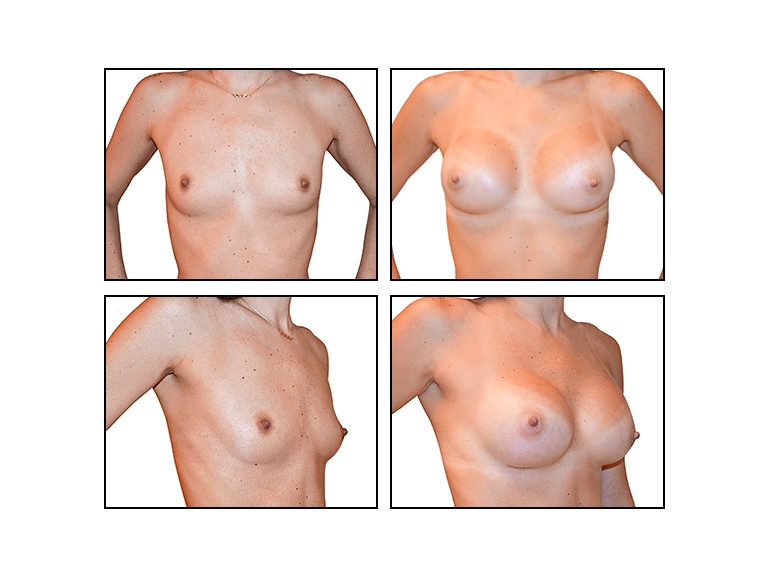 What to Expect During Breast Augmentation Surgery
Before your breast augmentation surgery, you will undergo a complete physical examination. It is essential to be in good health to ensure the best results. We will then discuss your breast augmentation options. Factors including age, breast shape, existing breast tissue, and skin elasticity will be used to determine whether a saline or silicone implant is right for you. Once we have a breast augmentation plan in place, we will schedule your surgery. The procedure involves making a small incision either in the crease under your breast, under your arm, or around your nipple. Your doctor will then separate your breast tissue from the connective tissue and muscles in your chest to form a pocket for your implant. If you opt for a saline implant, we will insert it empty and then fill it to your desired size. Silicone implants are placed pre-filled. We then close the incision with stitches and bandage the site.
Understanding the Recovery Period
During your breast augmentation recovery period, you will likely experience mild to moderate pain. But you can control the discomfort with oral medication. We may also prescribe a few days' worth of antibiotics and nausea medication. You should avoid strenuous exercise and heavy lifting for two weeks following breast augmentation surgery, and we recommend wearing a supportive bra. We will reevaluate you during a follow-up appointment and explain manipulation techniques you should employ to maintain optimal size and shape. Most patients experience a full recovery within six to eight weeks.
Our Team Will Deliver Long-Lasting Results
Immediately following your breast augmentation procedure, you will notice your breasts' larger size and symmetrical shape. We aim to provide fullness while also maintaining your breasts' natural appearance. Our team will provide suggestions regarding how to maintain your new look for years to come, but changes may occur over time due to factors such as weight fluctuations and aging. For those scenarios, we offer breast lift procedures to ensure long-lasting satisfaction.
Contact Runnels & North Outpatient Plastic Surgery Center
The way you look and feel plays an important role in your attitude and happiness. If you are unsatisfied with your breasts' appearance, do something about it. Runnels & North Outpatient Plastic Surgery Center offers breast augmentation surgery in Jackson, MS. We can improve the size and shape of your breasts to boost your confidence and enhance your look. Contact us today to schedule a consultation with our experts.
Get Outstanding Plastic Surgery in the Jackson, MS Area!