Skip to Content
Welcome to Skin the Spa
Whether you want to turn back the clock or hold Mother Nature at bay, the professionals at SKIN will customize a treatment plan for your skin's specific needs that will have you looking healthy, as well as more youthful and rejuvenated.
Runnels and North Outpatient Plastic Surgery Center and Skin The Spa Runnels Laser and Aesthetics carry a full line of medical-grade products such as Botox, Juvéderm, Volbella, Vollure XC, Kybella, SkinPen, Latissé, eyebrow micro-blading and as well as providing customized Oncology Skin Care regimes. Our private entrance overlooking Mirror Lake is both convenient and discrete.
Our Certified Aestheticians Know Skin
Proper skin maintenance can ward off the years. At Runnels and North Outpatient Plastic Surgery Center and Skin The Spa Runnels Laser and Aesthetics, our certified aestheticians bring years of experience and knowledge to each appointment. They can customize a regime just for you! Whether you're treating yourself to a luxurious facial or addressing serious issues like sun damage, lines, wrinkles, elasticity, rosacea, or skin oncology treatments, their expertise will get your skin the care it needs.
Injectables
A lady never tells her age, and neither should her skin.
Botox
Smoothes lines and wrinkles, conveniently and effectively. Commonly used to reduce or eliminate the appearance of fine lines and wrinkles on the forehead, Botox is made from a purified protein. It has the ability to relax the muscles used to create facial wrinkles, giving you a more youthful look.
Juvéderm
Immediate results, minimal downtime. Instantly restores your skin's volume and smooths away deep lines and facial creases.
Kybella
No surgery, no downtime, no double-chin! Kybella contours moderate to severe fat below the chin. This naturally-occurring molecule breaks down fat. Once your goals are achieved, ongoing treatment is not expected.
Vollure XC
Get the last laugh on lines. The first and only hyaluronic acid dermal facial filler approved by the FDA for the correction of moderate to severe wrinkles and lasts up to 18 months! Moves naturally with facial expression and has a swift recovery time.
Voluma XC
Instantly adds volume to the cheek area. Voluma can provide contour and a subtle lift for up to two years with optimal injectable treatment.
Volbella
Love your lips again! Volbella provides an improvement in the lip contour, boosting volume, smoothing vertical creases and achieving symmetry-all in a single treatment.
Restylane
Including Restylane Lyft, Restylane Defyne, Restylane Regyne, Restylane Silk
Cutera Laser Treatments
Results and recovery in days, as opposed to weeks, with our less invasive, and less costly procedures.
Pearl Fractional
It improves aging skin in only one treatment. You can reverse the signs of aging and achieve your best look with the safe, effective and convenient Pearl Fractional laser treatment. With this procedure, you can have sun-damaged skin improved with only one treatment. More specifically, you can treat brown spots and sun damage, as well as skin tone and texture. Your skin will become noticeably smoother and brighter.
The Pearl Fractional laser is safe, effective and unique. During the procedure, only a fraction of the skin is exposed to the laser beam. Tiny holes in the skin and columns of damaged tissue are selectively removed while the surrounding skin remains intact. When the skin heals, it creates new collagen and plumps the skin from below, resulting in a reversal of photoaging and other imperfections. Clients generally see results after one week, with maximum results visible in two to three months.
Laser Genesis
Restore a smooth, healthy complexion and youthful glow. Erase the visible damage and distress on your skin with the Cutera Laser Genesis. The Laser Genesis is an innovative treatment that promotes vibrant and healthy-looking skin for both men and women. It targets wrinkles, large pores, skin texture, and redness.
With approximately four to six treatments, Laser Genesis can improve the undesired effects and damage caused by sun exposure, aging or scars. This relaxing and therapeutic procedure uses non-invasive laser technology to gently heat the upper dermis (well below your skin's surface) in order to stimulate collagen regrowth.
Limelight Facial
Rejuvenates skin and brightens the complexion. This non-invasive laser procedure rejuvenates skin on areas of the body, including the face, neck, and chest. This customizable light treatment can deliver significant improvement in skin redness, tiny veins, brown spots, and sun damage, resulting in a more youthful and vibrant appearance.
The Limelight Facial is safe, effective and comfortable. In general, one to three treatments–each often lasting less than one hour–are required. Results are typically seen within one to three weeks following treatment.
Laser Vein Removal
Laser vein removal Safely and effectively treats both facial and leg veins with minimal discomfort. The Cutera CoolGlide vascular laser can safely and effectively treat both superficial spider veins on the face and deeper blue leg veins with minimal downtime. Safe and effective for all skin types.
Laser Hair Removal
Hello laser, goodbye razor! With the Cutera laser hair removal treatment, hair can be removed from many parts of the body including face, legs, arms, underarms, back and bikini area safely, quickly and permanently. This treatment is effective for all skin types, men and women. Hair removal with the Cutera laser treatment system is fast and comfortable. The procedure involves pulses of light delivered to the designated area, and no local anesthesia or pain medication is usually required. A series of procedures are usually required to ensure all hair is removed. Typically, six to eight treatments are needed to achieve the desired results.

Facial Treatments
Customized specifically for your unique skin concerns
Chemical Peel
Customized just for you to recapture that radiant, youthful glow. One of the most effective and affordable ways to turn back the clock, this peel is formulated for your specific skin condition and treats the most common skin imperfections including fine lines, wrinkles, pigment discoloration, acne, blemishes, and scars. Chemical peels stimulate cell turnover and increase collagen production invigorating your skin. A series of peels may be recommended to achieve the most visible improvement in your skin.
Obagi Blue Peel
Reveals younger, healthier-looking skin, one layer at a time. When it comes to your skin, there are many reasons to get the BLUES… blemishes, acne scars, wrinkles, uneven pigmentation, and sun damage, to name a few. The Obagi Blue Peel is an aggressive TCA chemical peel that dramatically improves your unique complexion.
The Perfect Derma Peel
Peel your way to perfection with the most advanced, medical-grade peel available! Our newest and most popular chemical peel, it's the perfect treatment for sun damage, fine lines, wrinkles, acne, enlarged pores, and hyperpigmentation including Melasma. You can see a difference after one treatment! Perfect Derma Peel is a safe and effective, non-invasive chemical peel that is virtually painless, and offers an easy and consistent peeling process. It's great for all skin types and ethnicities.
Diamond Dermabrasion
Popular skin-care treatment praised by both women and men. A mechanical exfoliation and powerful suction treatment that combats the signs of an aging face. This process removes the outer layer of the skin and stimulates the production of collagen and new healthy cells. Microdermabrasion aids in the improvement of fine lines, wrinkles, large pores, acne, and uneven skin texture.
Dermaplane
Reveals healthier skin with a smoother look and feel. Once an aesthetic trade secret in the modeling industry, this facial treatment gently exfoliates the outer layer of dead skin cells and removes unwanted vellus hair, or "peach fuzz," from the face. This exfoliation allows topical skincare products to penetrate more deeply. Immediate results reveal fresher, smoother skin.
HydraFacial MD
Hollywood's favorite facial – quick results and no downtime. A deep cleansing facial that involves a unique vortex suction, removing unwanted debris from the pores, such as dirt and makeup. HydraFacial is perfect for acne-prone skin and is also a wonderful anti-aging treatment with glycolic acid, hyaluronic acid, and antioxidants.
SKIN PEN Precision
See it to believe it!! Amazing SkinPen Micro-needling procedure. Creates microscopic channels in the skin, allowing products to penetrate into deeper layers of the skin. The reverses years of sun damage improve acne scars and enhances the overall appearance of aging skin with minimal downtime of 24 hours.
Custom SKIN Treatment Facial
Refreshing treatments crafted just for you. A specialty facial customized for your skin's specific needs. This refreshing treatment provides intense moisturizing, skin brightening, skin smoothing, and acne improvement, leaving your skin feeling healthy and rejuvenated.
Everlasting Brows Microblading
Completely realistic, smudge-proof, waterproof, and lasts up to 18 months! This impressive technique allows you to create the desired brow shape and fullness, unlike the old permanent tattoo methods. An everlasting Brow is a form of semi-permanent makeup called microblading, where through the use of specialized equipment, pigmented strokes are placed just below the skin's surface to create the optimal brow for your face. No matter the amount of actual hair present, the results are amazing—perfectly shaped brows! The effects last up to 18 months after which the pigment fades leaving the skin and your natural brows exactly as they were, allowing you to change with the times.
Brow Tinting
Lasts up to four weeks. Using a dye specifically formulated for the eyebrow, this treatment helps frame the face and enhance the shape of the eyes and eyebrows.
Latissé
Take your lashes to luxurious lengths. Grow eyelashes longer, fuller, darker with this popular prescription treatment for hypotrichosis (inadequate or thinning lashes.)
Lash Tinting
A quick eye enhancer for dramatic lashes. A dye specifically designed for the eyelashes, this treatment can be a beautiful addition to the Latissé lash growth system. Tint lasts up to four weeks.
One-Shot Lash Lift
Quick, long-lasting curl. A treatment that lifts your natural lashes. Just 20 minutes creates an elegant, plush curl that lasts up to 8-12 weeks, even after a shower or swimming, even after a shower or swimming!
Oncology
Clinical Oncology Esthetics© (COE) Certified
Now available at our very own SKIN the Spa are facials, massages and other skin and body treatments that can offer such benefits as increasing production of endorphins which can reduce stress levels and aid in healing. With Mississippi's only certified oncology aesthetician on staff, SKIN the spa can provide a number of calming, rejuvenating spa treatments to those who have specialized health and beauty needs as a result of cancer treatments and therapies. To assure your comfort, our treatments will use gentle yet effective products that won't irritate the skin. The result is a safe, soothing and luxurious escape just when you need it most.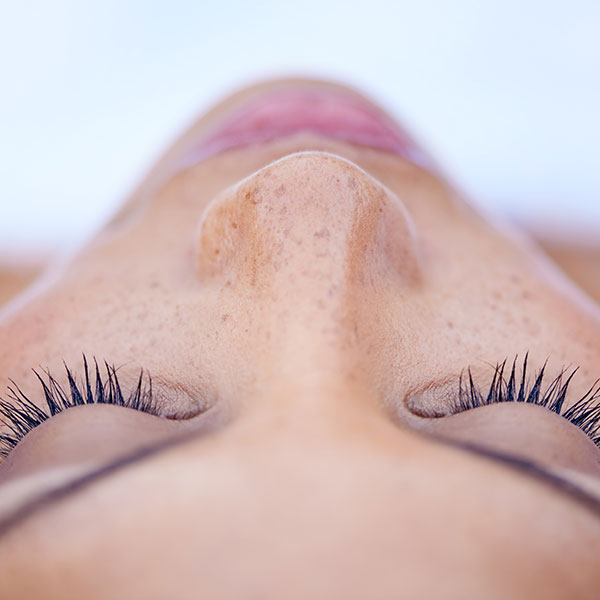 Custom Oncology Facial
Cancer treatments can be very hard on the skin. Patients may experience dry skin, rashes, and loss of elasticity as a result of various cancer therapies, or may have weakened immune systems, increased skin sensitivity and heightened sensitivity to sensory stimulation. Additionally, many studies show that the power of a touch, such as through a facial or a massage, can help reduce pain, improve mood, and reduce fatigue in cancer patients.
This one-hour facial is performed by a certified oncology aesthetician trained to address the common side effects of cancer treatments and therapies such as dryness, loss of elasticity, rashes and more.
Products
SKIN the Makeup
Shine your brightest with makeup from Runnels and North Outpatient Plastic Surgery Center and Skin The Spa Runnels Laser and Aesthetics. Our exclusive SKIN the Makeup cosmetics line is an extensive collection of amazing, quality products, with unbelievable color selection. We pride ourselves in using only the very highest standards of pigments and ingredients with four annual color stories available: Spring, Summer, Fall, and Holiday.
Our products are: Paraben-Free • Hypo-allergenic • Allergy Tested • Non-comedogenic • Fragrance-Free • Never Tested on Animals
NEOCUTIS
This exclusive Swiss technology is based on cutting-edge scientific research. Incorporating targeted technologies into luxurious product formulas enables NEOCUTIS to deliver innovative skincare and solve key skincare concerns, including the signs of aging, discoloration, oxidative stress, skin redness, and dryness.
Obagi
The #1 Physician-dispensed skincare system. Looking for the right Obagi product for your skin? We'll help you find a skincare regimen designed specifically for you.
DermAware
The results are immediate and unforgettable. DermAware offers nature's purest ingredients in enhanced concentrations with advanced nanotechnology delivery.
Get Outstanding Plastic Surgery in the Jackson, MS Area!